Powered by Plants with the Mission of Reducing Plastic Pollution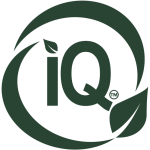 Powered by plants, so there's less pollution
"iQ™" is an innovative plant-based material invented by BioLogiQ.
Most of us do our best to recycle, but let's face it — our waterways, ocean and landscapes are still filling up with plastic waste. We want to give plastic a second life by recycling, but plastic doesn't always end up where we want it to go.
We can't wait until plastic has become waste to address the issue. We must start at the beginning. We're starting by manufacturing NuPlastiQ from plants and making it appetizing to microorganisms. That's why brands choose iQ to make their products and packaging more environmentally responsible.
iQ™ Technology helps reduce the persistent pollution that happens when plastic waste leaks into the environment.
---
A Smart Start
---
A product bearing the iQ label tells you that it includes a technology powered by plants and made with a vision for the future.
---
Less Plastic Pollution
---
iQ has demonstrated potential to accelerate biodegradation of "normal" plastics via a mechanism that is not fragmentation, reducing the potential for the accumulation of microplastics.
---
Without Compromise
---
NuPlastiQ provides the product experience that you've come to expect from "normal" plastics. Making Plastics


More Planet-Friendly
Sustainable
Over the last 50 years, plastic usage has increased 20 times, and it is expected to double over the next 20 years.
Our goal is to help make this market more sustainable by reducing the negative impacts of plastic pollution. 
Environmental
Plastic products made with NuPlastiQ® and our BioBlends® have many benefits to helping our environment and improving sustainability.
Blendable
NuPlastiQ is a team player. NuPlastiQ blends easily with traditional resins to upgrade their environmental performance. 
.
In an
Ideal World…
Plastics would be
fully circular with just recycling.
In the
Real World…
Recycling alone is not enough, and recycling only works when plastic is COLLECTED. Our Plastic pollution problem comes from UNCOLLECTED waste finding its way into the environment.
It is estimated 11 million tons of uncollected plastic (Pew) make their way into the ocean each year. Recycling doesn't reduce this number-if you don't collect it-it can't be recycled.
BiologiQ
Innovation…
iQ technology uses nature to accelerate plastics' biodegradation when leaked, reducing microplastics and pollution accumulation via a mechanism that is not fragmentation and without compromising shelf-stability.

We Start
With Plants,
Not Petroleum.
BioLogiQ's BioPolymers are a unique type of thermoplastic resin made with our proprietary and innovative technology process that converts high crystalline starch powder into a low crystalline (mostly amorphous) plastic resin.
BioBlend Resins with NuPlastiQ are designed to be shelf-stable while in use but if leaked or uncollected in the environment, accelerate the biodegradation via a mechanism that is not fragmentation.

Drop-In
BioLogiQ products are the evolution of Thermoplastic Starch (TPS) blending with legacy resins helping plastic products become more sustainable and planet-friendly.
No special equipment is required for manufacturers to use our resins and there is no increase in labor costs. It simply works.
BioLogiQ Products provide you with ready to use sustainability upgrades.
Did you know…
At BioLogiQ, we have invented a process that allows us to make blends of NuPlastiQ with traditional low-density polyethylene in such a unique way that the resulting thin films are significantly stronger than the PE-only film structures.
At BioLogiQ we are committed to preserving the quality of life we all enjoy here on the planet.
Chemical recycling technology plays an essential role in transitioning to a circular economy for plastics, helping to close the loop by recycling previously non-recyclable plastics.

READY TO MAKE THE CHANGE?
To learn more and trial our products, contact us today!
1-208-357-9650
A Story Worth Telling