Applications
NuPlastiQ® is the Natural Solution to the Man-Made Problem of Plastic Pollution!
NuPlastiQ®
BioLogiQ's NuPlastiQ BioPolymer is a unique type of thermoplastic resin made with our proprietary iQ™ Technology process that converts high crystalline starch powder into a low crystalline (mostly amorphous) plastic resin.
NuPlastiQ BioPolymer, a USDA Certified BioPreferred intermediate resin, reduces fossil fuel-based plastic use and greenhouse gas emissions. They also maintain or even enhance the performance of both traditional plastics and newer biodegradable biopolymers.
NuPlastiQ has many properties that are desirable for manufacturing a variety of products, including films and bags, injection molded parts, blow-molded bottles, and thermoformed parts.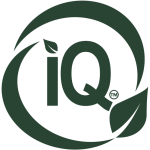 iQ™ Based NuPlastiQ Helps Make Plastics More Planet Friendly
NuPlastiQ is made from annually renewable agricultural resources such as potatoes, corn, and cassava. For example, besides industrially manufactured starch, we use starch that remains after processing potatoes into potato chips and french fries.
NuPlastiQ must be blended with other plastic resins, including both fossil-fuel and bio-based materials.
NuPlastiQ Has Been TUV OK Certified
NuPlastiQ BioPolymer resin reduce fossil fuel-based plastic use and greenhouse gas emissions. They also maintain or even enhance the performance of both traditional plastics and newer biodegradable biopolymers.
iQ Technology-based products have many properties that are desirable for manufacturing a variety of products, including films and bags, injection molded parts, blow-molded bottles, and thermoformed parts.
The NuPlastiQ CG 1000 series has been TUV approved and certified.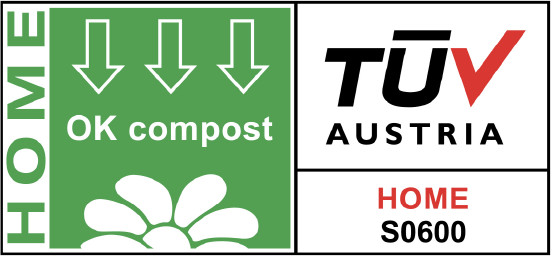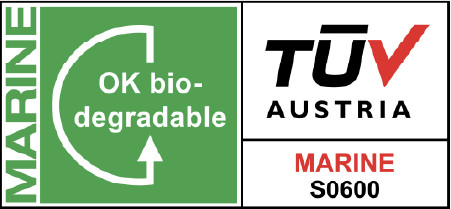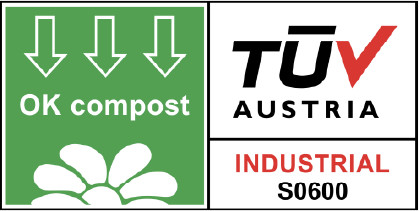 BioBlends®
BioLogiQ has invented a process for making homogeneous blends of NuPlastiQ BioPolymers (having low crystallinity) with other polyolefins (having high crystallinity). The resulting thermoplastic blend is called a BioBlend.
Since iQ-based products have a higher modulus (strength) than many polyolefins, BioBlends can be used to make plastic items that are stronger than those made with pure polyolefins. The chemical and mechanical bonds of plastic products made with BioBlends exhibit beneficial properties from each of the base resin feedstocks.
NuPlastiQ Family of BioBlends®
Compounding NuPlastiQ BioPolymer with legacy plastics produces BioBlend XP, XD, and BC Resins. These will meet or exceed the performance of products made from traditional plastic.
---
High-Performance: BioBlend XP High-Performance Resins for packaging will maintain or even increase the overall strength of plastics such as polyethylene, polypropylene, or polystyrene. They can also reduce material use, energy consumption, fossil fuel-based plastics usage, and greenhouse gas (GHG) generation by up to 50%.
The strength of XP can allow for downgauging.
XP has an amorphous structure, which makes it easily blended with PE, PP, and PS.
Using NuPlastiQ BioBlend XP helps reduce both fossil fuel-based plastic content and greenhouse gas generation – by up to 50%.
A product or package made with XP is entitled to carry the USDA Certified Biobased Product label.
Thin films made with BioBlend XP have a softer feel.
Reduces potential of persistent microplastics accumulating in the ocean*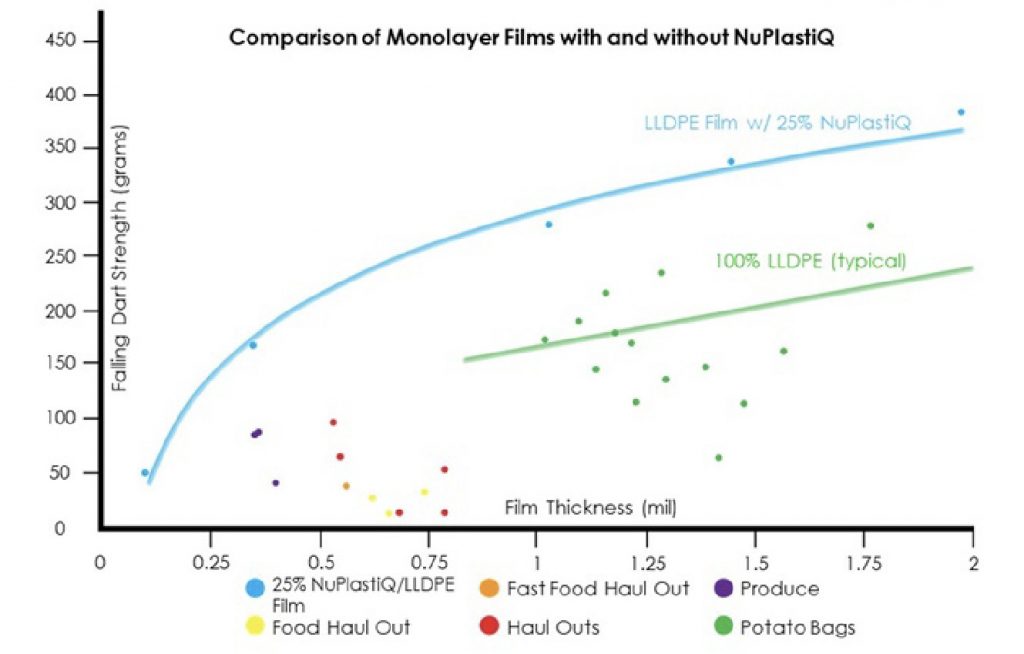 ---
Durable: BioBlend XD High Durability Resins for durable goods and rigid containers provide improved sustainability metrics related to reduced fossil fuel-based plastics usage and lower greenhouse gas generation while maintaining durability and other strength characteristics.
Maintains the physical properties, durability, and strength of the resins with which it is dry-blended.
Enables fossil-based material & energy reductions via efficient renewable content addition.
Reduces potential of persistent microplastics accumulating in the ocean*
Can reduce resin-related cradle-to-gate global warming potential by up to 40%.
---
Compostable and Biodegradable: BioBlend BC Biodegradable and Compostable Resins for packaging and films are produced by mixing our NuPlastiQ CG (Certified Grade) resin with similar plastics such as PBAT, PLA, and PHA. BioBlends are designed to retain or enhance compostability in industrial facilities and to do so price competitively. BioBlend BC enables:
Fossil-based material & energy reductions.
Efficient renewable content addition.
Reduction of greenhouse gas generation.
Compostability of thicker parts and faster biodegradability.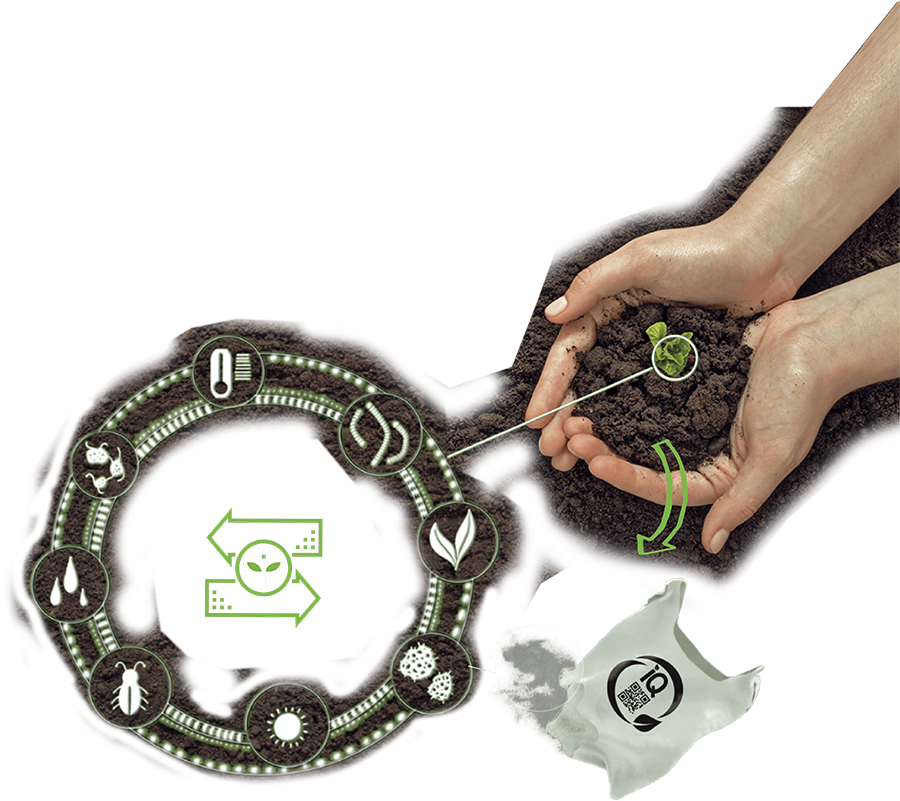 ---
Using NuPlastiQ instead of starch powder to make BioBlends makes it possible for any plastics product manufacturer to make high-quality, more sustainable, plastic products that have not been possible using starch in the past. Companies that tried to use starch or TPS in the past and were not successful can now easily use NuPlastiQ BioBlend resins on their existing equipment to make high-quality and high-performance products.
Using BioLogiQ's process on standard compounding machines, BioBlends can be made for your application without the need for special equipment such as side feeding ports for starch powder injection.
BioBlends have been successfully made and are in use with many traditional fossil- fuel resins such as LDPE, LLDPE, HDPE, PS, PP, and PBAT, as well as with bio-based resins such as PHA, PLA, and PBS, etc. BioLogiQ continues to develop blends with various grades of the many plastic resins available in the marketplace.
Compostable Resin Blends
NuPlastiQ CG-1000 Series has been granted certification for both INDUSTRIAL and HOME composting by TUV.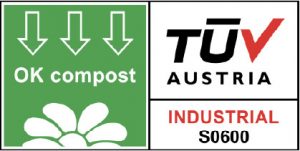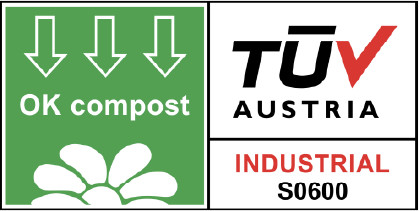 Ok Compost INDUSTRIAL
Customers can use NuPlastiQ resin to produce packaging or products that meet ASTM 6400 (2012) and EN 13432 (2000). If the customer wants to certify their product and feature the OK compost INDUSTRIAL label on their packaging, they must have their product certified.
---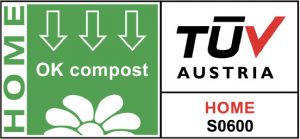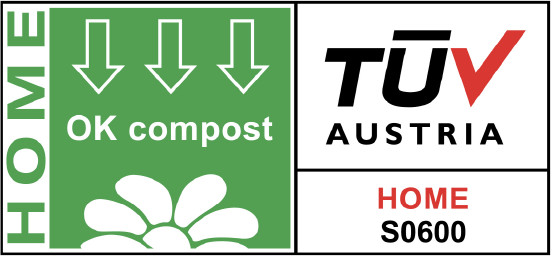 Ok Compost HOME
Customers can use NuPlastiQ to produce packaging or products can say that meets TUV's home compostability requirements. Customers who want to feature the OK compost HOME label must have their product certified.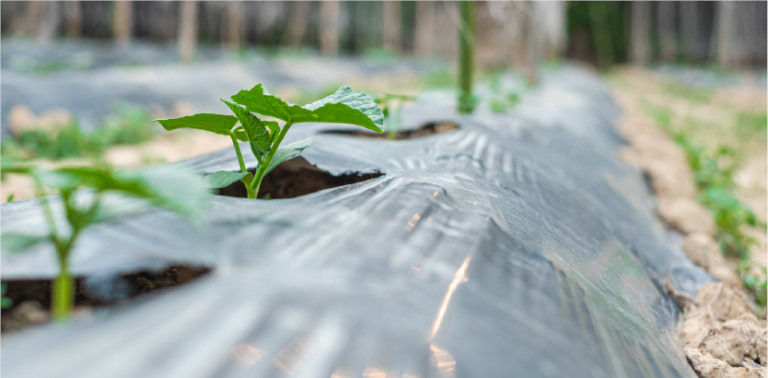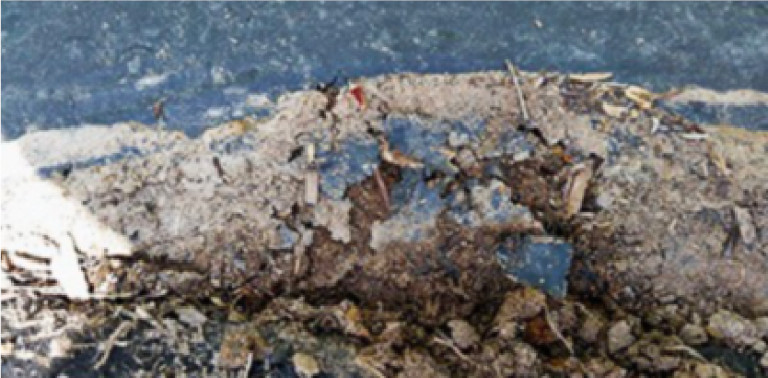 Fortunately, due to NuPlastiQ's very rapid degradation rate, NuPlastiQ can enhance the overall biodegradation performance of other resins in applications where this is a desirable condition.
For example, PBAT is often used as an agricultural mulch film; however, its degradation rate in a farm environment is slower than generally desired. Using a NuPlastiQ / PBAT compostable blend, the degradation rate can be designed to be as short as 30-60 days, while still providing crop enhancing features that are required.
We have experience blending NuPlastiQ with a wide variety of other compostable resins such as PLA, PHA, PBAT, PBS and PCL. Please contact BioLogiQ directly to discuss your specific compostable resin material needs and we will help you design a compostable blend for your application.
Applications & Processes
Processes
BioLogiQ's NuPlastiQ BioPolymer is designed to be used with other thermoplastic resins on standard plastics process equipment. Processing is generally in line with existing processes but may require minor adjustments to process conditions, such as to processing temperatures.
How BioLogiQ turns plants into Plastics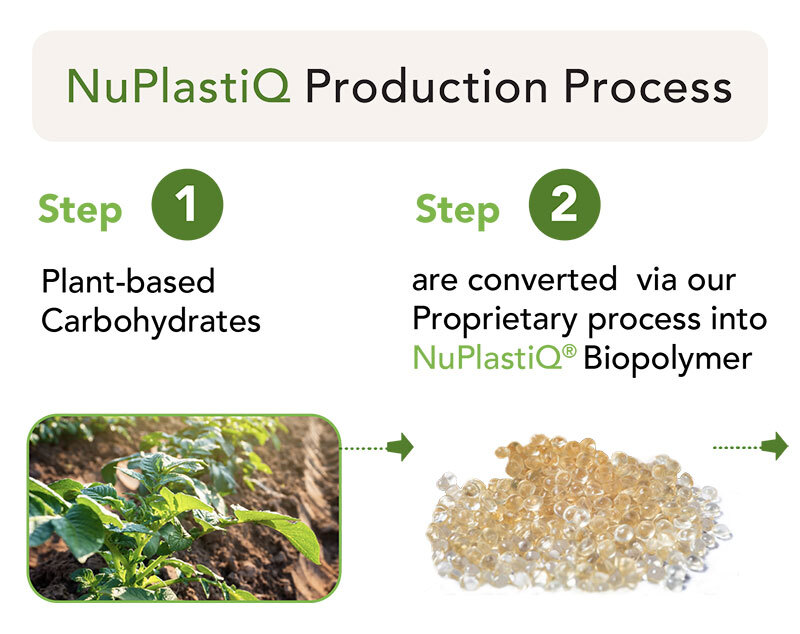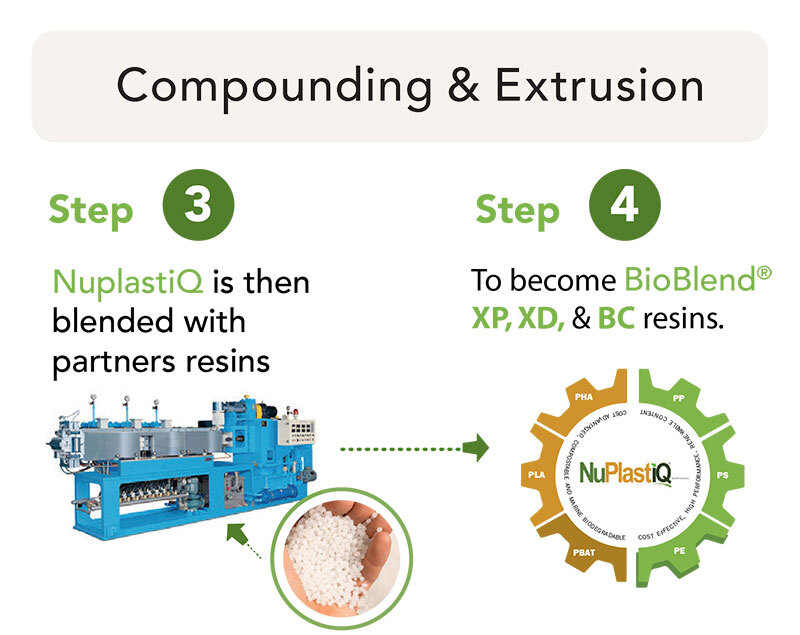 BioBlend® Creation
BioBlends are made by blending BioLogiQ's NuPlastiQ resin with other conventional resins. BioBlends normally start as Masterbatch pellets containing 50% iQ (NuPlastiQ) and 50% fossil-fuel resin which are blended on standard compounding equipment. Masterbatch BioBlends are then blended further at the final process to obtain the desired NuPlastiQ content.
Example: for typical film applications, the BioBlend Masterbatch that contains 50% NuPlastiQ and 50% virgin LLDPE resin would be fed into the blown film hopper along with an additional 50% LLDPE base resin so that the final BioBlend content in the finished film would be 25% NuPlastiQ and 75% LLDPE. Other ratios are also possible and can be easily established by the appropriate down blending configuration.
BioLogiQ can provide BioBlend compounded resins directly from our factoryies in Idaho/USA and Shaoguan/China for trial and production activities. Please contact the factory for a direct discussion of your specific needs.
Blown Film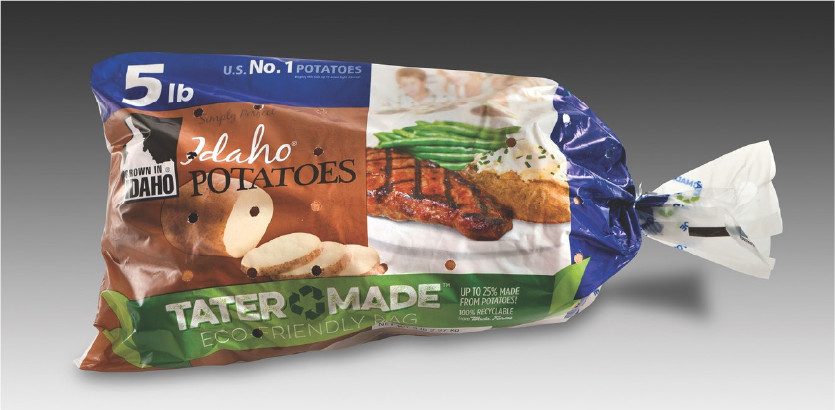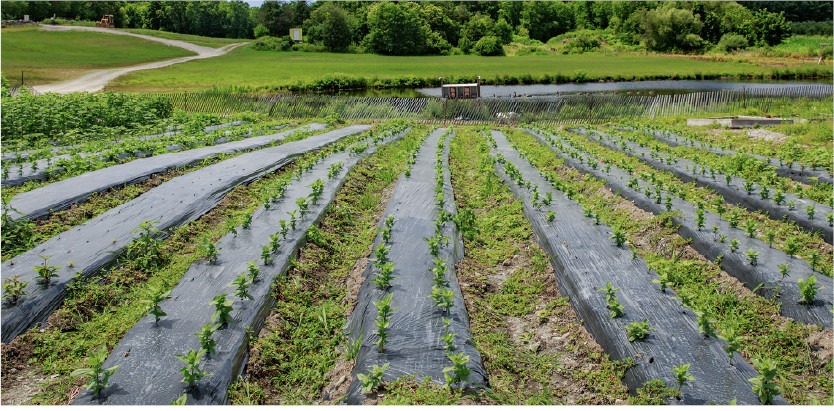 NuPlastiQ is a perfect resin for many blown film applications, including, for example, produce bags, agricultural film, and industrial packaging film.
Blown films containing NuPlastiQ can be processed on standard film blowing equipment. Films containing NuPlastiQ have been successfully made with various grades of LDPE, LLDPE, HDPE, PBAT, PLA, PHA and others. NuPlastiQ/LLDPE films as thin as 2.54 microns (0.1 mil) have been successfully blown. NuPlastiQ generally adds to the bubble stability and to the increased strength of blown films.
For best results, we like to start with a 50% NuPlastiQ BioBlend Masterbatch to make film. The masterbatch should be let down with additional resin so that the final ratio of NuPlastiQ is between 15% and 40% in a mono-layer film or in any particular layer of a multilayer film. We have developed the following Film Processing Guide for reference when performing initial product trials.
Blow Molding
Blow Molded Bottles containing a NuPlastiQ BioBlend can be made for health and beauty products (such as lotion bottles). NuPlastiQ is a perfect material to enhance the sustainability of blow-molded bottles containing HDPE or PP. You can achieve a reduction in fossil-fuel content without sacrificing performance.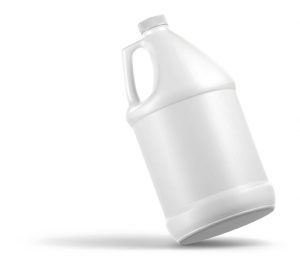 Sheet Extrusion and Thermoforming
Polypropylene and Polystyrene are common materials for making thermoformed products such as cups, lids and electronic component packaging. Implementing a NuPlastiQ BioBlend solution adds sustainability to these products without sacrificing appearance or performance.
Injection Molding
NuPlastiQ Masterbatch BioBlends can be used on standard injection molding equipment to make a wide variety of products such as cups, cutlery, custom-designed plastic parts. Implementing a NuPlastiQ BioBlend solution adds sustainability to these products without sacrificing appearance or performance.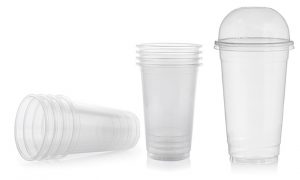 Other Processes
In addition to these standard processes, BioLogiQ will work with you to make iQ™ Technology based products available on your proprietary processes.
BioLogiQ is happy to assist you with the optimization of processing conditions that may be necessary during your trial and production ramp-up activities. Please contact us for further information.

Standard Products
Links to documents and reports that may be useful when developing products with NuPlastiQ BioPolymers. The Technical Data Sheets and Safety Data Sheets contained are only for standard products that we sell. Please contact BioLogiQ for documents related to custom products.
Some products made with iQ™ Technology based NuPlastiQ

KWIK LOK
Kwik Lok used NuPlastiQ in its Eco-Lok bag closures. By including a natural, renewably sourced plant-based resin that requires less fuel to manufacture, NuPlastiQ® helps reduce greenhouse gas emissions and overall fossil-based material use. They are completely interchangeable with our previous closures and compatible with your existing Kwik Lok machinery. Learn more at www.kwiklok.com.
---

BURT'S BEES
Burt's Bees works hard to create innovative packaging solutions that are both useful and sustainable. Burt's uses iQ based NuPlastiQ in its lip balm tubes so in the unlikely event they are not disposed of properly, the NuPlastiQ component accelerates the biodegradation process. Learn more at www.burtsbees.com.
---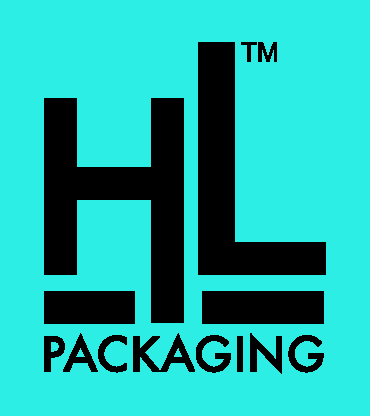 HIGHLOCK PACKAGING
HIGHLOCK delivers the promise of providing safe, more sustainable alternatives to our customers. We make their lifestyle possible. Our child resistant Pop Top containers live by that promise, offering safety, improved sustainability and the functionality you've come to expect.
HIGHLOCK chose to include iQ™ in the protective packaging of their product because it provides an environmental improvement without compromise to functionality.
A Story Worth Telling